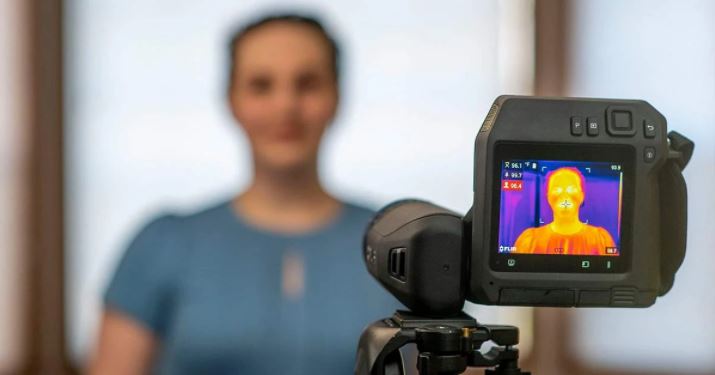 How Fever Screening Systems Can Help Organizations Reopen Safely
In addition to upending our world's economy and public health, COVID-19 has also pushed consumers into a contactless society: many credit cards now have chips for tapping, people pull up tickets or barcodes on their phones to show purchase confirmations, and — now — organizations can rely on fever screening systems to safely reopen, all via hands-free technology.
As restaurants, offices, shops, schools, and other organizations begin to reopen, industry leaders are seeking secure ways to resume business as usual while also taking every precaution necessary to ensure safety for employees and clients. One major way to vet incomers is via thermal body temperature detection. To gain entry, many organizations are exercising mandatory temperature checks, but without an efficient system, these checks can be time-consuming and expensive while also potentially putting workers at risk. Hiring someone to check every single person's temperature seems risky, and pricy.
Fortunately, the future is here, bringing with it fever screening systems that execute temperature checks accurately, contactlessly, and efficiently. Even safer and quicker than the popular no-touch infrared thermometers that are flying off the shelves, fever screening systems succeed in detecting thermal body temperature to let employees know who can safely enter their workspace. 
In addition to its accuracy, once up and running, this technology is very simple to use: these temperature screening systems use thermal imaging cameras and software to read skin surface temperature, using that information to estimate then calculate one's core body temperature. If that temperature is above a preset range, a buzz will sound to alert whoever is supervising the technology of this employee or guest's higher-than-average temperature. From there, a second test can be conducted, or the person can be politely asked to shelter at home and rest to return to full health and resume work at a later time.
The economy is on the path toward recovery, but the last thing any owner or employee wants is to inadvertently invite the threat of COVID into their workplace. Regain customers' trust and invite them into your facility — safely and efficiently — with the help of modernized fever screening systems, which will help open your doors and our economy.
To help organizational leaders, The Security Professionals have crafted a Guide to Facility Risk Assessment. With over 35 years of experience, The Security Professionals are New Jersey's go-to security system and locksmith professionals who now, during COVID, play an even more vital role in assuring organizations reopen and operate safely. For more information on how The Security Professionals can provide technology that lets your facility run smoothly, browse our free guide here.