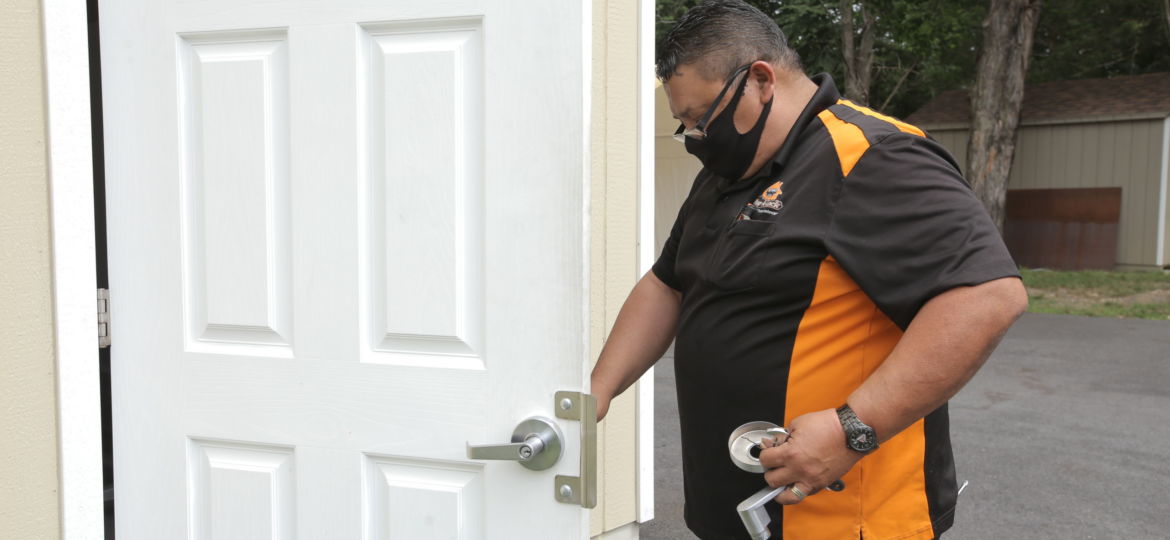 Can Antimicrobial Hardware Reduce the Spread of COVID?
With businesses reopening across the country, those that get ahead will not just be the ones with strong marketing and clear communication — it will also be those who creatively consider ways to gain customer trust in warding off the chance of COVID infections. Companies are eager to reopen, and customers are looking for ways to boost the economy, but safety, now more than ever, must be considered a top priority.
One innovative way to curb chances of infection is antimicrobial hardware. This specialty product has, naturally, surged in popularity during a pandemic as businesses resume operations. A coating on many common surfaces — locks and door handles at entrances and exits — antimicrobial hardware is formulated to stop or severely slow the rate of bacteria growth. This specific coating is designed to halt cell multiplication, meaning, when used on frequently-touched surfaces, many hands may touch them but they will not become epicenters of germ growth and regeneration.
Silver ions are the active ingredient used in this hardware; they are known for targeting mildew, mold, and bacteria. Since COVID is a virus, it is still undecided on how certainly it kills the cells associated with this specific ailment. Nonetheless, it's become another effective way to prioritize the health and well-being of workspaces. 
Even not during a period like COVID, antimicrobial hardware is useful to keep offices, restaurants, retail stores, and other businesses clean and safe. But now, it has become a necessary instrument for a number of reasons. First and foremost: safety. Yes, employees and clients should be thoroughly washing their hands — and hand sanitizer should be kept nearby for those coming and going — but this hardware will target potential virus-spreading germs and halt their growth in their tracks.
Another benefit of antimicrobial hardware is more economic in nature. Lots of hours and dollars will need to be spent to keep people safe and business spaces immaculate. This includes monitoring and polishing common points of entry. Some places may need to hire a worker whose sole job is to keep order and cleanliness; antimicrobial hardware eases this burden, saving companies time and money.
This hardware is also long-lasting. Durable and often stainless, antimicrobial products are built to last to make purchases, and safety, a long-term investment. These products can also be customizable, created to a given company's look and style or selected from a bank of popular products currently in stock. 
But form always follows function, and the function of antimicrobial hardware is what matters most right now. Upgrade your handles and locks to ensure a safer environment for employees and customers alike!
The Security Professionals are happy to further discuss the benefits of this hardware. Get in touch today to learn more about how it can serve your company and what products we have. Let us help you put safety first!